IRA Bequest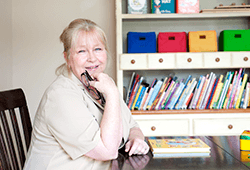 Margaret recently retired from her job as a librarian. She had been an active volunteer and supporter of her favorite charity for many years, and she wondered how she could continue to support her favorite charity with less income in retirement.
"I made gifts every year when I was working," she said. "However, I recognize that with less income in retirement, I needed to reduce my expenses. I still want to support my favorite local charities."
Margaret contacted the Sanford Health Foundation and discovered that she could create a charitable bequest to us from her IRA. She would continue to own the IRA and receive IRA income during her life. When she passes away, the balance of her IRA will transfer to the charity to help further their work.
Once she decided to sign up, she contacted her IRA plan administrator and completed the beneficiary designation form to name our organization as the secondary beneficiary of her IRA.
"Despite the fact that I have limited resources, I did not think that I would use all of the money in my IRA," she said. "I was so happy to learn that I could make a gift from my IRA without impacting my current income."
*Please note:
The name and image above is representative of a typical donor and may or may not be an actual donor to our organization