DeLoris Erickson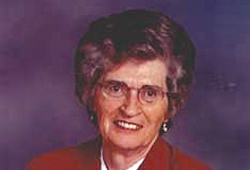 DeLoris Erickson, a longtime friend and supporter of Sanford Health, has provided annual support for Sioux Valley Children's Fund since 1992. In addition, she has now established a charitable gift annuity to help further the Sanford Children's Challenge campaign, dedicated to the construction of and permanent support for a new state-of-the-art children's hospital. A charitable gift annuity is a planned giving agreement that allows a donor to make a gift to the Sanford Health Foundation and receive fixed payments for the rest of his or her life.

Through her gift, Erickson established the DeLoris Erickson Endowment Fund, which will support children's healthcare programming and services. It also provided her the opportunity to sponsor a room in the new Neonatal Intensive Care Unit, which she did in memory of her brother, Reuben Cyrus Erickson.

While Erickson recognizes the personal benefit of establishing the charitable gift annuity, her greatest concern is for those it will ultimately benefit. "I chose an annuity because it's a good investment," she said. "But it's more important to me that in the long run it will make a difference for someone else, and with the Sanford Challenge it will definitely do just that."